Silicone Hoses - Reducer

Our silicone connection hoses combine style and performance, making them ideal for most air and water applications.

Product info
All our hoses are handcrafted in our factory in China.
Our team of highly skilled technicians take great pride in their work and are committed to providing you with a level of quality unmatched by any other hose manufacturer.
We continuously monitor and analyze our performance through ISO9002, ISO9001:2000, QS9000, FIA16949 certified quality management systems and are committed to the principle of continuous improvement.
Applications:


-Joining your intake pipe to the throttle body assembly, air metering assembly, intercooler, BOV pipe, or turbo inlet/outlet.
-Custom compressor, intercooler or inlet piping for turbo/supercharged car
-Custom cold air intake for nonturbo car
-Replacement of all factory rubber parts
-These silicone parts can be used in trucks, recreational vehicles, boats, or anything else with an engine.

-The Standard length of our coupler is 3'', provide variable bore sizes to suit different applications.
Features & Benefits:
-Standard Material: Silicone reinfored with Polyester Fabric
-Standard Color: Blue/Red/Black
-Max Temperature: 220℃(428°F)
-Pressure: 0.3-0.9Mpa
-Size tolerance: +/-0.5mm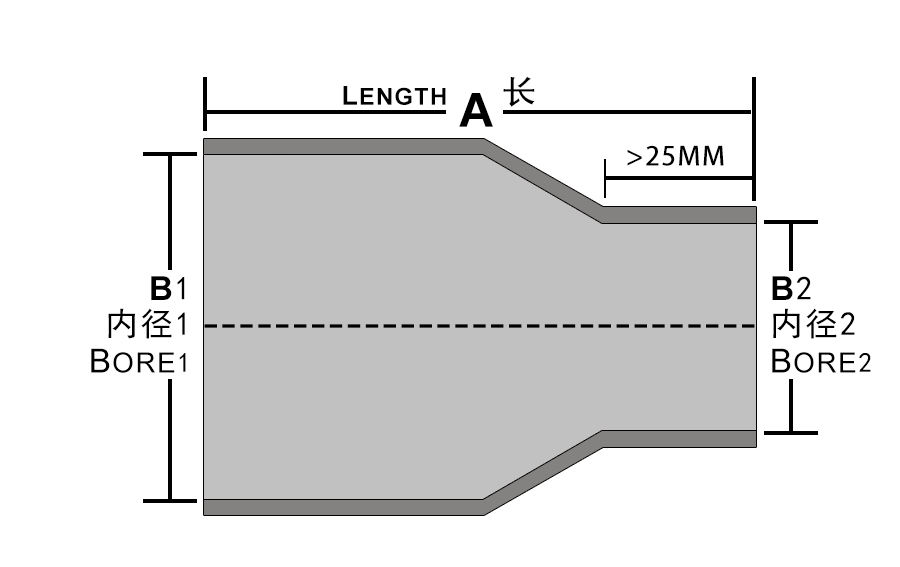 Specification
Reducer
Part Code
Bore mm
Bore ''
Wall Size
PLY
SR16-13
16mm>13mm
5/8''>1/2''
4mm or 5mm
3 or 4
SR19-13
19mm>13mm
3/4''>1/2''
4mm or 5mm
3 or 4
SR19-16
19mm>16mm
3/4''>5/8''
4mm or 5mm
3 or 4
SR22-16
22mm>16mm
7/8''>5/8''
4mm or 5mm
3 or 4
SR22-19
22mm>19mm
7/8''>3/4''
4mm or 5mm
3 or 4
SR28-22
28mm>22mm
1 1/8''>7/8''
4mm or 5mm
3 or 4
SR28-25
28mm>25mm
1 1/8''>1''
4mm or 5mm
3 or 4
SR32-25
32mm>25mm
1 1/4''>1''
4mm or 5mm
3 or 4
SR32-28
32mm>28mm
1 1/4''>1 1/8''
4mm or 5mm
3 or 4
SR35-25
35mm>25mm
1 3/8''>1''
4mm or 5mm
3 or 4
SR35-28
35mm>28mm
1 3/8''>1 1/8''
4mm or 5mm
3 or 4
SR35-32
35mm>32mm
1 3/8''>1 1/4''
4mm or 5mm
3 or 4
SR38-22
38mm>22mm
1 1/2''>7/8''
4mm or 5mm
3 or 4
SR38-25
38mm>25mm
1 1/2''>1''
4mm or 5mm
3 or 4
SR38-28
38mm>28mm
1 1/2''>1 1/8''
4mm or 5mm
3 or 4
SR38-32
38mm>32mm
1 1/2''>1 1/4''
4mm or 5mm
3 or 4
SR38-35
38mm>35mm
1 1/2''>1 3/8''
4mm or 5mm
3 or 4
SR40-35
40mm>35mm
1 5/8''>1 3/8''
4mm or 5mm
3 or 4
SR45-32
45mm>32mm
1 3/4''>1 1/4''
4mm or 5mm
3 or 4
SR45-38
45mm>38mm
1 3/4''>1 1/2''
4mm or 5mm
3 or 4
SR51-38
51mm>38mm
2''>1 1/2''
4mm or 5mm
3 or 4
SR51-45
51mm>45mm
2''>1 3/4''
4mm or 5mm
3 or 4
SR54-51
54mm>51mm
2 1/8''>2''
4mm or 5mm
3 or 4
SR57-51
57mm>51mm
2 1/4''>2''
4mm or 5mm
3 or 4
SR60-50
60mm>50mm
2 3/8''>2''
4mm or 5mm
3 or 4
SR63-51
63mm>51mm
2 1/2''>2''
4mm or 5mm
3 or 4
SR70-50
70mm>50mm
2 3/4''>2''
4mm or 5mm
3 or 4
SR70-57
70mm>57mm
2 3/4''>2 1/4''
4mm or 5mm
3 or 4
SR70-60
70mm>60mm
2 3/4''>2 3/8''
4mm or 5mm
3 or 4
SR76-51
76mm>51mm
3''>2''
4mm or 5mm
3 or 4
SR76-63
76mm>63mm
3''>2 1/2''
4mm or 5mm
3 or 4
SR76-67
76mm>67mm
3''>2 5/8''
4mm or 5mm
3 or 4
SR80-70
80mm>70mm
3 1/8''>2 3/4''
4mm or 5mm
3 or 4
SR90-80
90mm>80mm
3 1/2''>3 1/8''
4mm or 5mm
3 or 4
SR102-76
102mm>76mm
4''>3''
4mm or 5mm
3 or 4
SR127-100
127mm>100mm
5''>4''
4mm or 5mm
3 or 4
Send Request
Request product information
Related Products
PRODUCT FILTER
Address:

Hangzhou Haihua I & E Co. LTD
2nd Floor, B Building, Jinrun Technology Park,
399 Qiuyi Road,Binjiang District,
Hangzhou,310052, China

Tel: +86-571-85463038

Chinese Phone:+86-139-5717-0353

US Phone:+1-626-493-9520


Fax: +86-571-85464084

E-mail: sales@hiwowsport.com

Connect : Andy Ying

Whatsapp: 008613957170353

kuaishou:hiwowsport2005




Tik Tok(Chinese version):dy9zc1x1bwtp

Xiaohongshu:racingcarparts

kuaishou:hiwowsport2005